Are you a small business struggling with creating online video content?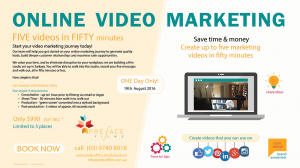 Start your video marketing journey today!
Our team will help you get started on your online marketing journey that generate quality leads, build deeper customer relationships and maximise sales opportunities.
We value your time and to eliminate disruption to your workplace, we are building a film studio set-up in Sunbury. You will be able to walk into the studio, record your five messages and walk out, all in fifty minutes or less.
How simple is that!
"Get Started with Preface Films"
Consultation – up to one hour prior to filming via email or skype conversation. We will help you tease out your messages and assist in developing questions to get the responses right.
Shoot Time – 50 mins. Your time is valuable and we believe in minimising your time away from work. Our streamlined process and film direction ensures we get your messages filmed comfortably and easily in 50 mins.
Production – using a "green screen" background allows flexibility for creative post-production techniques to be used. We offer you a choice of high-quality backgrounds to suit your brand image, your personality and your message. We can even include images and graphics for a nominal additional cost.
Post- production – up to 5 premium online marketing videos of approx. 60 secs. We are all about quality so you have the option of delving into a key message in greater depth by creating fewer, but a longer video. Let's discuss your specific needs.
Revisions – Our goal is to get your online video right in the first place and the work we do with you upfront ensures you stay on track with your messages. Revisions can be provided for a nominal additional cost.
Some strategies you can use your videos!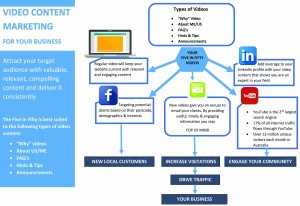 Five in Fifty – Online Video Marketing Offer For Small Businesses from Preface Films on Vimeo.
Your production can be used in your email signature, for on-line advertising, "how to" tips, your LinkedIn profile, or on your team page. Each clip will be approx. 60 secs in length